Make your dreams happen
Signing up to coaching with me is the first step to realising your dream. Is it time for you to stop procrastinating and start taking action to make a change in your life?
Learn More
What can I do for you?
As your coach, I will utilise my knowledge and skills to coach you towards your goals. More often than not, I find that people have things holding them back, those being past events, certain values and beliefs, a particular mindset or even a habit that they have picked up and have become comfortable with. While working with me, I will aim to understand what is happening in your life, what your goals are and aim to break this down to help you achieve your dream. As I do this, I will be tackling any fears, conscious and unconscious limiting beliefs or obstacles getting in the way. I will use my coaching and NLP skills to give you greater insight into your own thoughts and language and use tools that you could benefit from in your personal journey to success. My aim is to empower you with these tools and techniques for you to take control of your own life. I can help you gain clarity of past events, which have had negative impact on you and work with you to change these effects to give you more choice and control in your life. I will share with you my knowledge of relevant research within psychology or neuroscience to offer techniques that can further facilitate and accelerate new changes.
LEARN MORE
Enjoy the Journey
My clients often say they have both benefitted and had fun in the process. This is important for me, as I believe that change should be both rewarding and fun for it to be persistent and result in lasting benefit.
Learn More
Challenge yourself
Yes, you will be challenged as that is my job and I will strive to get you outside your comfort zone, but I always aim for this to be in a safe, warm, uplifting and motivational way.
LEARN MORE
Mindset growth
My greatest interest is within mindset coaching, as I truly believe that with a great mindset anything is possible! I will help you focus on a more positive mindset and establishing a mindset growth that will both facilitate and motivate you in all areas of your life.
Learn More
You will notice that you will:
✓ Have a greater insight into what drives your thought processes and ultimately choices of actions.
✓ Feel calmer and clearer about your goals
✓ Feel more in control of your life
✓ Improve your self esteem and develop strong (as opposed to fragile) confidence
✓ Improve in your decision making
✓ Develop a strong sense of inner resilience
✓ Be more eager to learn and develop by overcoming any fear of failure or even fear of success
✓ Reduce or even eliminate any sense of stress or overwhelm in your life
✓ Lower your risk of depression and anxiety (and other mental health problems). I'm a big believer of taking early action! Prevention is better than cure.
✓ Improve your relationships, both personal and professional
✓ Be able to balance your personal and professional life
✓ Be able to work as part of a strong team.
✓ Develop your career or business
✓ Welcome challenges and effectively deal with setbacks

Are you ready to take the next step and invest in real change to your life?
LEARN MORE
Testimonials
They speak from experience
Romy
London
"Isra Altayar helped me unlock my fears, and for that I am endlessly grateful. Isra's calm approach provides good conditions, which allow us to reflect and go beyond of what we were expecting for the session. Isra I am so grateful and happy I had the opportunity to be coached by Isra Altayar, which I will always be happy to recommend her as a coach"
Karen
Congleton
From our first contact Isra was receptive to my feelings of confusion about how to manage my complicated life. I wanted to attempt to manage completing my coaching training and starting a coaching business with standing as a candidate for our local town council. Both required a lot of effort and time. Isra listened to me and she challenged my limiting beliefs. I felt overwhelmed by what I was attempting to achieve and was well out of my comfort zone. Isra over three month period using seven sessions help me to see how to break the problem into chunks and seek to achieve a number of goals. Each session was designed to clarify the smaller goals and work through options with a desired outcome. Isra was calm and often helped me to identify habits that were not assisting me to reach my goals. I thank Isra for enabling me to become more self-aware and I will continue to work towards the goals of achieving election but now concentrating on 2019. This gives me time to complete my diploma and concentrate on designing my sole trading business.
Chiedza
London
"It was a really great experience to be coached by Isra. I felt I benefitted a lot from the sessions because I managed to really talk through my goal which at the start I found quite scary and intimidating, but through each session I managed to talk through some of my fears and Isra was able to pick out some of my limiting beliefs and through that I was able to come up with beliefs that would be more beneficial for my goals. Isra did a session with me where she incorporated some of her NLP techniques which for me I found was really powerful because I am still using the effects of that technique in my day to day. I really enjoyed being coached and I wish Isra all the best."
Harriet
The overall impact was positive. It gave me a clearer vision of my needs and emotions regarding my relationship.

It made me question my partner's behaviour rather than accept it and it gave me the strength to address the things I wasn't prepared to tolerate anymore. This ultimately led to a better feeling of inner peace and calm and self-belief.

The coaching also helped me deal with a difficult situation at work.

Thank you Isra!
Helen
I had worked as a sole trader for a number of years and felt that I wanted to work to improve myself and the service I provided. I haven't had an appraisal since 2008 and was lacking confidence since having children. Working with Isra has been transforming. We concentrated on different aspects of my work and how I felt about them. Looking at each part, breaking down feelings, reactions and visualising end results, I have found this really helpful. We also looked at body and verbal language, as well as considering customers feelings and reactions, this aspect has been very enlightening
All through our sessions I felt the improvement, which helped me mentally. Since my time with Isra, I feel that my work and business has benefitted from my renewed outlook. There are still elements I have to work on, but it has highlighted them to me and also I now have strategies to iron them out. Isra is approachable and calm, with many wise words and I have throughly enjoyed working with her.
Emma
Cheshire
"My sessions with Isra have made a big difference to me personally, my family life and my working life. Since the sessions, I feel more focused on my long-term goals. This is a real achievement as I can get bogged down in the minutiae of here and now and forget about where I want to get to. We looked at my relationships with my children and wider family and I feel that I have made very positive improvements here too. Isra gave me different tools and techniques that have proven very useful. For example, we had a session where I visualised 3 very powerful, positive experiences in my life, this is now a green triangle and I have been using it as a visualisation tool if I want a bit of extra mental strength and motivation- it really helps. Isra challenged my thinking on occasions, but in a constructive way and where I needed to be challenged! Lots of things from the sessions have really stuck with me- for example, since the sessions I really see how my use of language can limit me and have been making efforts to change this. Such a simple thing but its having a huge impact on how I approach things.
Lisa
Cheshire
'Isra was very clear on how sessions were organised so we agreed a desirable outcome at the beginning of each session.
She used a variety of techniques to help me to see things differently, some of which were extremely powerful.
She has allowed me to see the benefits of organisation and also of being kinder to myself.
She has also shown me the power of changing my language to elicit a positive outcome in others. Thanks Isra'
iaBlog
Check out our blog, with all our articles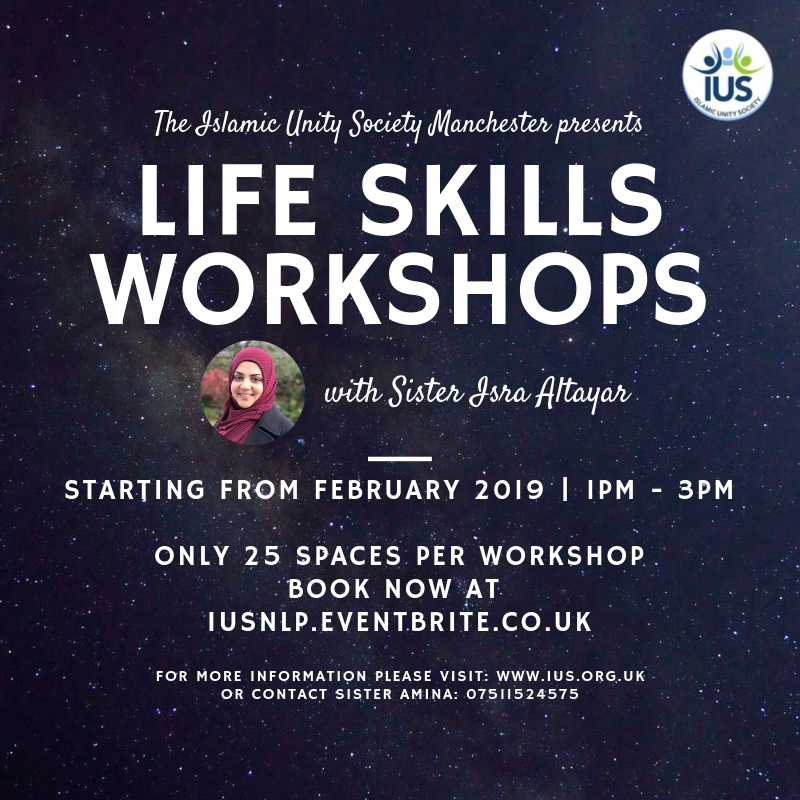 About this Event IUS Manchester Presents Life Skills Workshops with Sr Isra AlTayar starting February 9th.Sign up at iusnlp.eventbrite.co.uk Sr Isra AlTayar is a mindset life coach and neuro-linguistic programming (NLP)[…]
Read more
---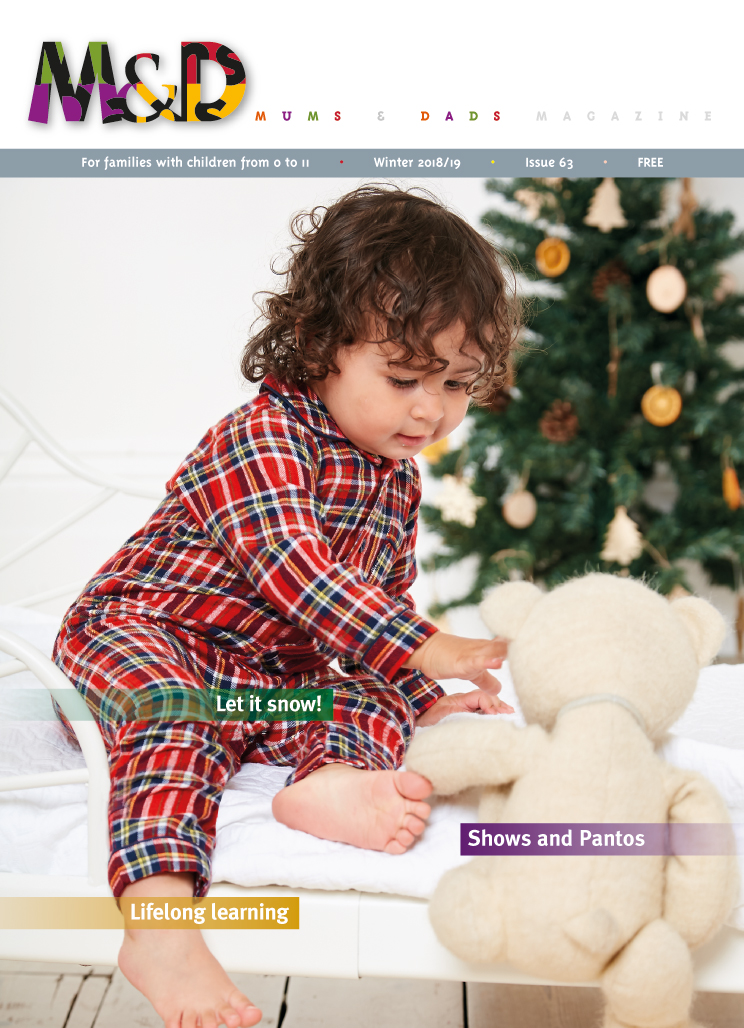 Following on from my last blog, I have had quite a few people contacting me about their children and seeking help with parenting issues whilst others have worries about the[…]
Read more
---
The changing and challenging lives that people are living in today's world has resulted in a greater increase in stress and mental health problems. It is estimated that one[…]
Read more
---