Life Skills Workshop at IUS Manchester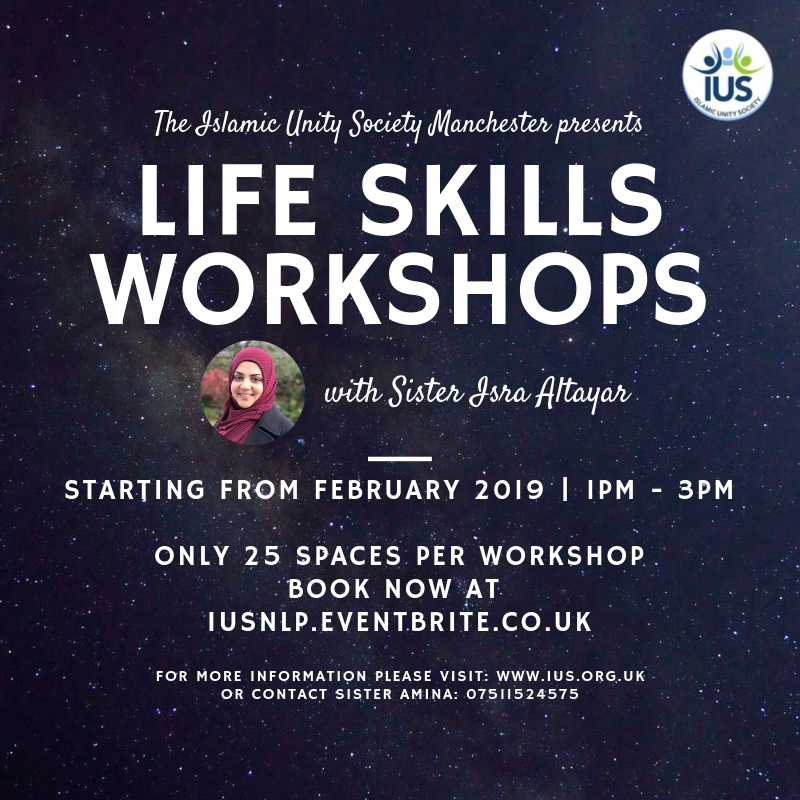 ---
About this Event
IUS Manchester Presents Life Skills Workshops with Sr Isra AlTayar starting February 9th.
Sign up at iusnlp.eventbrite.co.uk
Sr Isra AlTayar is a mindset life coach and neuro-linguistic programming (NLP) practitioner. She is a member of the BPS (British Psychological Society) and the SGCP (special group coaching psychology ) and is SFEDI accredited (UK's only dedicated Awarding Organisation for Enterprise and Entrepreneurship).
The following topics will be covered on each date (all timings from 1pm to 3pm, Zuhr Prayer can be performed at the venue prior to workshop).
1) Goal Setting for Success – Saturday 9th February
2) Know Yourself Better – Saturday 2nd March
3) Self love (SISTERS ONLY) – Saturday 16th March
4) Habit of Positivity – Saturday 30th March
5) Motivation and Self Discipline – Saturday 4th May
6) Group Coaching Session & Mid Year Review – Saturday 15th June
Each workshop is £15 each, but book all 6 workshops and you will recieve £30 back (£60 for 6 workshops) or book 5 workshops and you will recieve £25 back (5 workshops for £50).
For more information please contact Sr Amina at 07511 524575.
Free parking and refreshments will be available.